Authors
Dear Author,
New! The Author site is in Beta. Submissions for freebies are currently pay-what-you-want: author.ebookdaily.com. Spread the word!
If your book is featured on eBookdaily, I would greatly appreciate if you mention and link to eBookdaily.com from your website/blog and on social media. There is a special URL for each promotion that will show the book cover as the thumbnail on facebook. It is the deal page with the books ASIN at the end such as:
https://ebookdaily.com/free-kindle-ebooks/2015-06-09/B005GY0Y8S
The link will show up on facebook like this: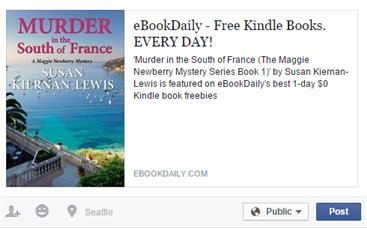 Thanks again, for sharing your books for free with the eBookDaily reader community.
(*) Please do not abuse the current open policy on the Facebook page. I simply ban violators.